محليات
A global company carries a Lebanese family heritage in Tobacco Farming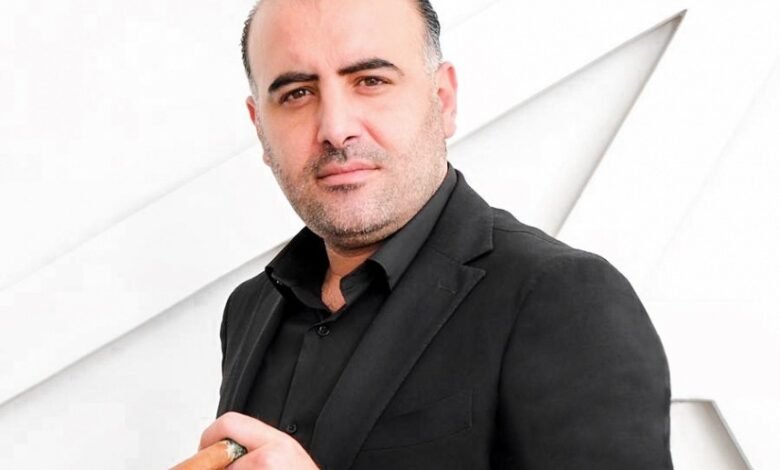 Tobacco International Inc. is a global American company specialized in tobacco manufacturing that has quickly become successful, ultimately expanding worldwide. The founder and CEO of the company is the renowned Lebanese businessman Atef Raef Hazime.
The early life of the founder and the Lebanese family heritage
 
Atef Hazime was born in 1983, amid the devastating times of the Lebanese Civil War. He was the eldest of 8 siblings, raised by a well-educated woman alongside an acclaimed businessman in the trading sector who carries a long-running family heritage in tobacco farming that dates back to the 17th century. Growing up, Hazime got involved in his father's business early on, so his passion for the trading world started growing. He subsequently inherited his work ethic; hence he followed in his footsteps. Thus, he was committed to make a name for himself on a global scale and establish his own tobacco manufacturing company to extend the Hazime family legacy. This led him to take the next step and go all the way to the United States at the age of 17, where he believed he could turn his vision into a reality. Hazime arrived alone in the USA, as an international student, where he attended Emporia High School. After graduating, he found his interest in Political Science, so he moved to Detroit, Michigan, to enroll in Henry Ford College and later in the University of Michigan.
 
The founder's career and the establishment of the company
Hazime took it upon himself to make his way up and was set about finding means to do so. He managed to juggle studies and work, as his dreams of making his way into life and reaching success were growing deeper. He was able to push ahead in work and start paving his way for a better career. He always had in mind that the way to success consisted in taking small steps, so he knew that his efforts would someday, bit by bit, turn out to be rewarding. He successfully entered the trading business; nonetheless, despite all the accomplishments he had made by then, his ambitious vision still exceeded them. His promise to preserve and extend his family heritage in tobacco farming never left his mind. He tried going back to Lebanon, his homeland, but the country was enduring its most catastrophic state, which resulted in an even greater crisis in the Banking sector. Nonetheless, Hazime's untiring resilience and shrewdness worked in his favor, eventually finding means to overcome the struggles in his country and get around the crisis, so he decided to extend his career back into the United States. After having gone through all these hurdles and having a hard time getting the license for establishing his company, Hazime, as a visionary, successfully founded Tobacco International Inc. To this day, Hazime still reminisces about his upbringing, when he used to watch his grandparents growing tobacco leaves in the vast green fields. Thus, he went about to continue the legacy and managed to become a Tobacco branding and manufacturing pioneer in what he considered one of "The most challenging arenas."  The multinational company provides a wide range of premium tobacco products manufactured exclusively in the U.S. The company's corporate headquarter is located in Delaware, its manufacturing office is in North Carolina, and its operations office is in Florida. The company has successfully established a global presence through expanding its sales offices across multiple regions, including Europe, Africa and the Middle East.
The launching of the global brand Rebel
The milestone that has contributed to the global rise of the company was the launching of Hazime's global brand, Rebel. Despite the difficult circumstances resulting from the COVID-19 pandemic, Hazime was able to launch this global brand and distribute it globally. Rebel comes with a fresh vision and a proactive approach through its slogan, Defy Ordinary, ultimately inviting the consumers to become part of the unique Hazime family heritage. Through his new brand, Hazime ensures to provide products that meet world-class standards in tobacco manufacturing. He guarantees meticulous supervision of all the manufacturing stages, from growing to packaging. In order to provide global standards, all operations and mechanisms that take part in the manufacturing process, through all its technicalities, are under the supervision of Hazime alongside a distinctive board of directors, consisting of international trading leaders and experts in the tobacco manufacturing industry, and in cooperation with his prominent partners. Indeed, Tobaccon International Inc. works closely with leading tobacco manufacturing companies in the U.S. alongside leading experts in the tobacco trading business. "Through our global brand Rebel, Tobacco International Inc. is securely reintroducing original premium American tobacco products in the global market. Indeed, we have successfully managed to transfer products that are manufactured in the United States of America to this part of the world, which has not been done in around 30 years," says the founder Atef Hazime. Today, Tobacco International Inc. will become a public company, with over 1,000,000,000 billion shares in common stocks.
Despite the difficult circumstances the country is witnessing, Atef Hazime believes that the human resources enriched by the Lebanese youth will prosper once again, ultimately preserving their deep-rooted Lebanese heritage.